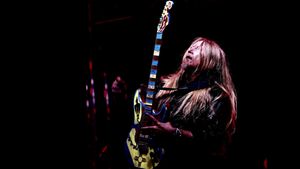 LIFE
Donnie Miller. A small town boy from DaVille...Coffeyville,KS. A place with a storied history of outlaws. And 45 years playing thousands of shows including funky dive bars, larger theaters and major concert tours, he's chiseled that outlaw spirit into a second coming thru the power of the blues. An AOR artist during the first part of his career but playing the blues the last 25 lends it's power to his guitar and vocals.
After leaving home and playing 200 dates a year for 10 years in several bands Donnie signed an 8 album deal with CBS Records (SONY) in 1987. His first album "One of the boys" was released in 1990 to critical acclaim and included Cyndi Lauper and Tommy Shaw making guest appearances.  After a devastating injury in 1992 to the palm of his left hand, he started playing the blues as a means of therapy trying to relearn the guitar. It saved both his life and career.
He began playing live again in 1993 in the mid-west. Moved to Nashville in 2000 and now plays all over the country. Hosting music city's longest running blues jam for a dozen years has provided him with the opportunity to give back to the music that fills his soul. His love for the blues led to the founding of The National Blues Network in 2001 which connects lovers of the genre from around the world!